Encourage Great Behaviour with Kids Reward Charts
chore chart,early learning,reward chart
Our little boy is a terribly fussy eater. He's always been a bad eater, even as a baby, but since he turned 4 he took it to a whole new level. His dinners mainly consisted of pasta and tomato sauce (and not good tomato sauce….the sugary stuff out of the bottle)! Things were going from bad to worst, so I knew things had to change. The team at Bright Star Kids decided to create some cute Reward Charts, which I then tested out on our now 5-Year-Old boy.
Our Reward Chart Journey:
The first time I used the Reward Chart, I told him if he would eat a tiny strip of chicken that he would get a sticker. If he managed to get 10 stickers he would get a toy of his choice. His eyes lit up! He proceeded to reluctantly eat that tiny strip of chicken, and he got to put a sticker on the chart!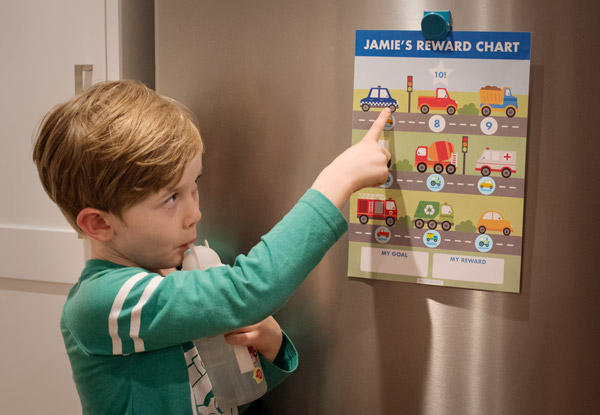 Throughout that first week, he managed to eat a few more different things, some with success, others not so much. He got a sticker once he ate whatever it was that we wanted him to eat. We were pretty lenient at first by giving him only small amounts, which made it way easier for him to succeed. 
Skipping forward to a month later, we've now gone through 3 sheets! So that's 30 times where he tried out new foods. Some days he managed to get more than 1 sticker if he had foods he normally wouldn't eat for breakfast and then again for dinner. We also gave him 2 stickers if what we were trying to get him to eat was particularly challenging, such as chicken and carrots all in the one dinner!!! Some days he just wanted a break, so we just skipped those.
Amazing Results:
Our little fella has remarkably improved his eating habits in just over a month. He's now eating chicken, fish (he even ate salmon the other day), beef (from a casserole), carrots, peas, and potatoes. It's pretty remarkable how much his diet has changed and it really hasn't been too difficult.
In the image below, you can see his different reactions to this new food, Shepherd's Pie, that I introduced to him yesterday. Without bribing encouraging him with a star, there is no way that we could have gotten him to eat it. It's so much nicer using the reward system because threatening him with no dessert, or TV, etc, just doesn't work with his stubborn personality! And look he even has a cute smile at the end of it 😉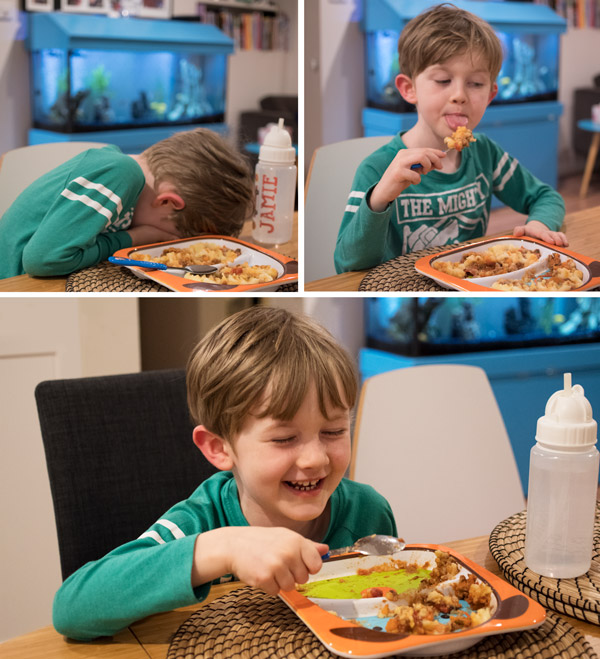 Using the reward chart has made our lives so much easier, and he loves how it all works. We hang it on the notice board at home, where he can easily see how his progress is coming along. It gives him a lot of control and makes eating new food fun.
Another benefit of it, which was a little unexpected, is that whenever he annoys us for a toy in a shop, we can tell him that he can have it when he gets to his 10th sticker. This is particularly handy when you need to get them out of the toy section without having a meltdown!
Other ideas of how to use Reward Charts:
Toilet training – give them a sticker every time they successfully do a "wee" or a"poo" initially. This can then be pulled back to every day when they've had a good successful day of going to the toilet. Don't give them a sticker if it's a false alarm (a.k.a. they pretend to do something but nothing came out) as you don't want to encourage these.
Try new things – if your child doesn't like learning new things like riding a bike (yes believe it or not our little man hates to do this), you could set this reward chart up with the goal being to learn how to ride a bike. Every day that they practice you can give them a sticker.
Do chores – for little kids getting them to help around the house is another great way to use this reward chart. Instead of getting frustrated nagging them to help, you can encourage them with a sticker. Get them to tidy their toys, bring their plate over, etc, and they can get a sticker. You can set the tasks on an as-needed basis until they get a bit older and can do set chores.
Getting the most out of Reward Charts
When you're starting off using a Reward Chart, the key is to make it achievable for your child to get to the full 10 stickers*, but not so easy that they get them all in one day. Try to spread it out, but make sure you make the goals and rewards very clear so there's no confusion (for you or your child). Both parents need to understand what is expected to get a sticker so you don't get played!
We like to put the Reward Chart somewhere that our child can easily see it, but not too low that they can pull it off the wall. You can find lots of cute Reward Charts and Reward Stickers over at Bright Star Kids.
Most of all have fun with it and before you know it the kids will be doing all the things you've always wanted, hopefully without too many tantrums or battles to have to deal with!
We'd love to hear how you encourage your kids to eat new foods and try new things! Leave us a comment below with your experiences.
*We recommend using the stickers that coordinate perfectly with Bright Star Kids Reward Charts (which are sold separately). This makes it much more fun for your child. If you don't want to purchase these stickers, you can always use other stickers! You could also just colour in each circle or tick them as you go.