Draw on the Walls with Chalk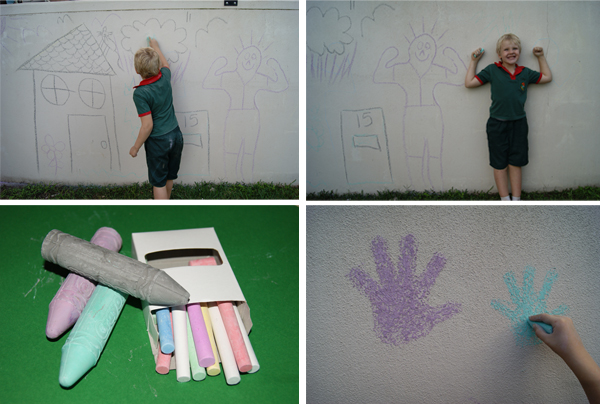 When considering planning art and crafts for kids, are you a mother that faints at the mere thought of having to clean up splotches of paint from the carpet, or ungluing cardboard masterpieces from your kitchen table?
Take comfort – there are plenty of wonderful, simple activities that can take your budding young artists (and their mess!) outside, allowing them creative freedom without any stress for you.
Take a simple box of chalk ….
Grab a box of coloured chalk from the supermarket or toy store.  There is a huge range available, including larger sticks that last well on rougher surfaces like concrete.  Dress the kids in some old play clothes, and head outside to the garden.
Let the kids go wild on the walls of the house or the garage/shed, and any concrete paths, courtyards or the driveway.  The chalk hoses off very easily, and the kids will actually love helping you clean up later!
Encourage the children to create a huge mural on a wall.  You can sit back and see what they come up with on their own, or you might like to give them some ideas, eg:
Draw the whole family life-size, including any pets. Get the kids to stand against the wall and take turns to trace around their bodies (and yours! … maybe not the cat…), then add funny clothes and hats.
Create a zoo, drawing all of the animals they can think of.  Perhaps they might like to create their own animals.
A fantasy land, with huge dinosaurs, rainbows and pirate treasures, or a castle with a princess waving from a window.
A garden, with trees and dozens of flowers, and apples the size of basketballs.
You may need to help the younger children to create some pictures by helping with the outlines, but encourage the kids to colour in by themselves, and to add their own features to the faces and clothing, etc.
If you have a good area of concrete flooring, get the kids to draw house outlines and roads, to create their own city.  They will love to plot their rooms, add swimming pools and playgrounds, and then role play and pretend to drive around in their own "space".  Blurring the line between artwork and play encourages and fosters artistic talent in children, and a life-long love of creating things for themselves.
Don't forget to take photographs of the children's finished artwork – it may save some tears later after you have cleaned up (or it rains overnight!).