Getting To Know BSK: Meet Mel, our Designer!
getting to know bsk,graphic design career,graphic design tips,meet our designer,teacher gifts,teachers gifts
This week, we are going to meet one of our designers – the lovely Mel! Our second instalment of our new series Getting To Know BSK will focus on getting to know one of the hardworking people behind the scenes for Bright Star Kids. You'll want to bookmark this if you're interested in finding out how your favourite Bright Star Kids products are designed. Sit back, grab a cuppa, and enjoy this read!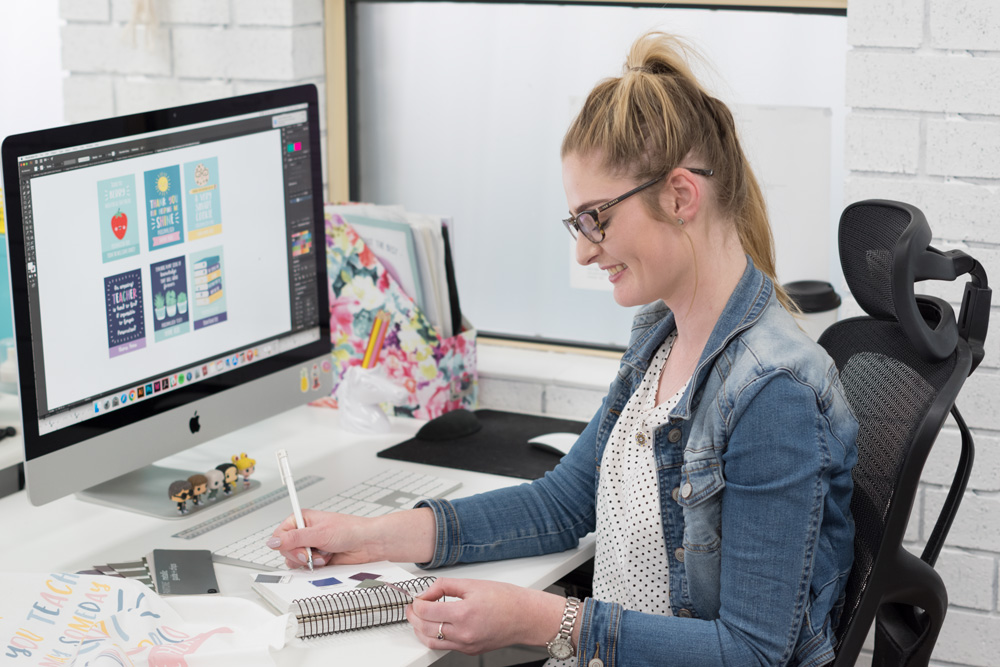 How did you start in design? 
I first started to become extremely interested in Graphic Design and Illustration when I was in high school. I took it as an elective in my senior years, not really knowing what it encompassed. It didn't take me long to figure out that I wanted to continue my learning, so shortly after school, I went on to University. I had some amazing, supportive and knowledgeable teachers that often inspired me to do my best work.
What were you doing before Bright Star Kids?
Bright Star Kids is the first graphic design job I've had. I am so lucky to have landed a dream job so soon into my career! Before this, I was eating my fair share of doughnuts at the bakery I was working for (a very important task I still continue to do at BSK).
Share with us a few of your favourite BSK designs and why. 
I really enjoyed designing our newest range of teacher gifts, in particular, the 'Sunshine' & 'Smart Cookie' designs. These designs go across our greeting cards, wine labels, tote bags, tea towels and large drink bottle products. 
In devising our new teacher range, I was quite reminiscent and inspired by the teachers I once had during school. The type of teacher that I have always found I learned best from were funny, bright and approachable. I also wanted to create a quite child-like feel to the designs. I was able to employ a mix of bright colours, simply textured illustrations and some funny puns.  It gave the sense that the gift is completely personalised and comes from the child.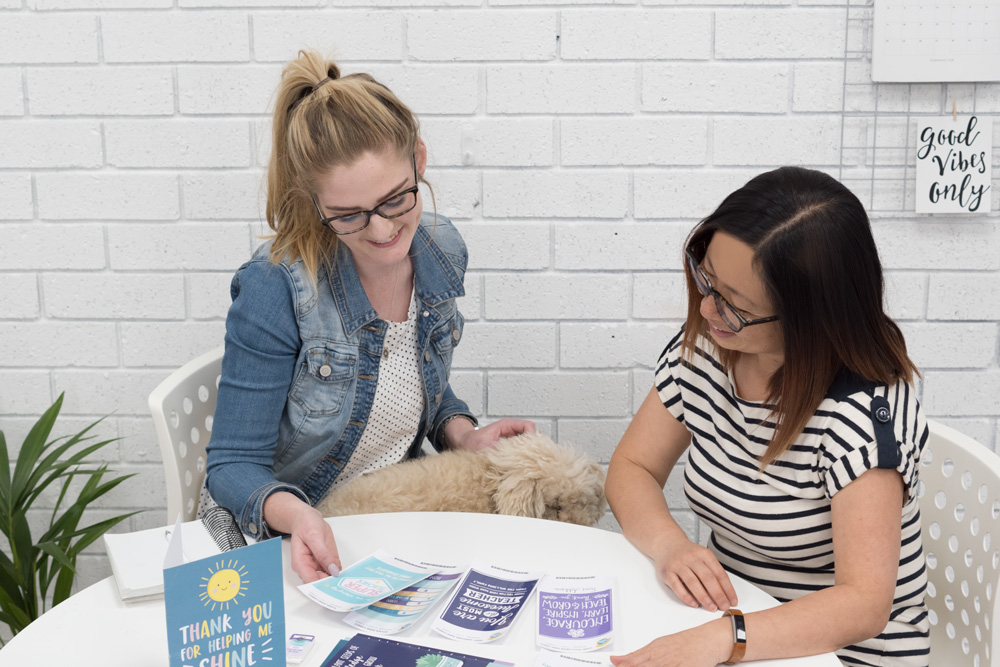 How do you come up with new designs?
To begin any new design, I always start off by researching and sketching. This helps me to roughly plan out and process my ideas. Once I have this, I will then move onto the computer and continue to refine the more complicated details within the design.
What are your favourite parts about working for Bright Star Kids?
Where do I begin?! I love working at BSK so much, that a lot of the time it doesn't seem like work at all! As someone that is a big kid at heart and loves puppies, unicorns and all things magical, being able to create new products and designs that encompass all of this is always so much fun. The amazing team I get to work with and our gorgeous little office dog, Coco is also always a plus.
What's something people would be surprised to learn about you?
This probably isn't too surprising, but when I'm not at work, I'm busy being a massive dork, as I am a big movie, music and comedy buff. I also adore our family dog Cadbury and I try to visit her as often as possible. Whilst I do love animals, I have a massive fear of birds.
What advice do you have for anyone who is interested in design?
You can never stop practising and learning new skills. Coffee and chocolate cure creative block. The design process is exciting and there are so many different roads you can go down. Find what works for you and you'll have fun.