Mother's Day Card Messages – Top 50
mother's day ideas,mother's day messages
Messages that tell her how much she's loved.
Aren't mums just amazing? They've cooked our lunches & dinners, picked us up when we're down, and put us first always.
If you're struggling to write a Mother's Day card message or just need a little inspiration to get you going, we've found a stack of  Mother's Day messages for you! If you're also looking for a unique Mother's Day gift then you'll love these Mother's Day Gift Ideas.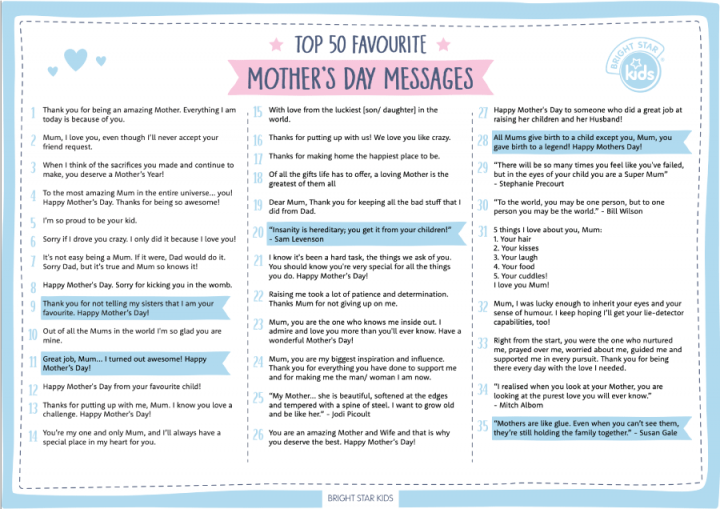 Check out our Top 50 Favourite Mothers Messages here. 

Messages for Mother's Day Cards for Kids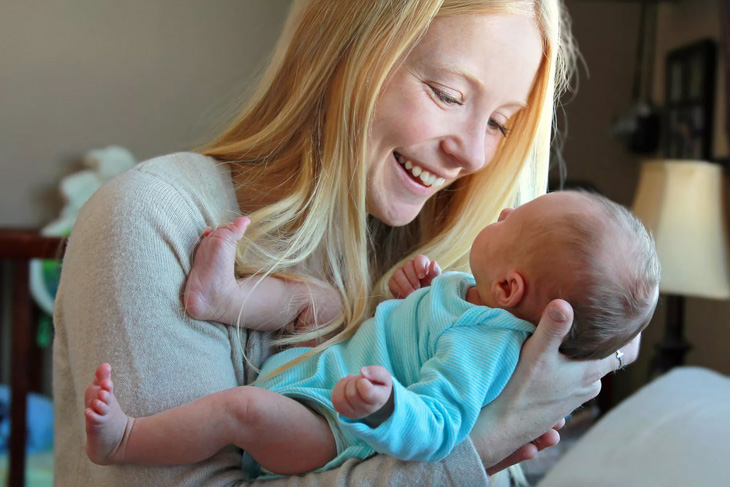 1. "Walk with me, Mama! Walk alongside me, Mama and hold my little hand. I have so many things to learn that I don't yet understand.
Teach me things to keep me safe from the dangers of every day. Show me how to do my best at home, at school, at play.
Every child needs a gentle hand to guide them as they grow. So walk alongside me, Mama, we have a long way to go." 
2. "I'm so proud to be your kid & I'll never forget all that you've done for me. Ever!" 
3. "Dear Mummy! Thank you for tucking me in, picking me up, and showing me how. Thank you for teaching me to do things on my own and believing in me when I try. Thank you for hugging me and loving me and doing special things to make me happy." 
4. "Mum, I love you! Mum, I love you for all that you do. I'll hug and kiss you because you love me, too! You feed me and need me to teach you to play. So smile because I love you on this Mother's Day!" 
5. "Thank you for not telling my sisters that I am your favourite. Happy Mother's Day"
6. "My Handprint! Here is my handprint, Five Fingers in all, Outside they are small, but the middle is tall. 
You will find them on windows, you can find them on the wall, they will make a big mess, For something so small.
One day I will grow, And leave them no more, My handprints will be missed, Of that I'm sure. 
So here is one now, That you can't wipe away, My present to you, This Mother's Day."
7. "Happy Mother's Day. Sorry for kicking you in the Womb." – A little bit cheeky!
8. " 5 things I love about you, Mum: 1. Your hair 2. Your kisses 3. Your laugh 4. Your food 5. Your cuddles!"
9. "Thanks for putting up with us! We love you like crazy."
10. "Right from the start, you were the one who nurtured me, prayed over me, worried about me, guided me and supported me in every pursuit. Thank you for being there every day with just the love I needed."
There are more Mother's Day Card Messages below or Download our Top 50 Favourite Mothers Messages. 
Mother's Day Card Ideas from Big Kids/Adults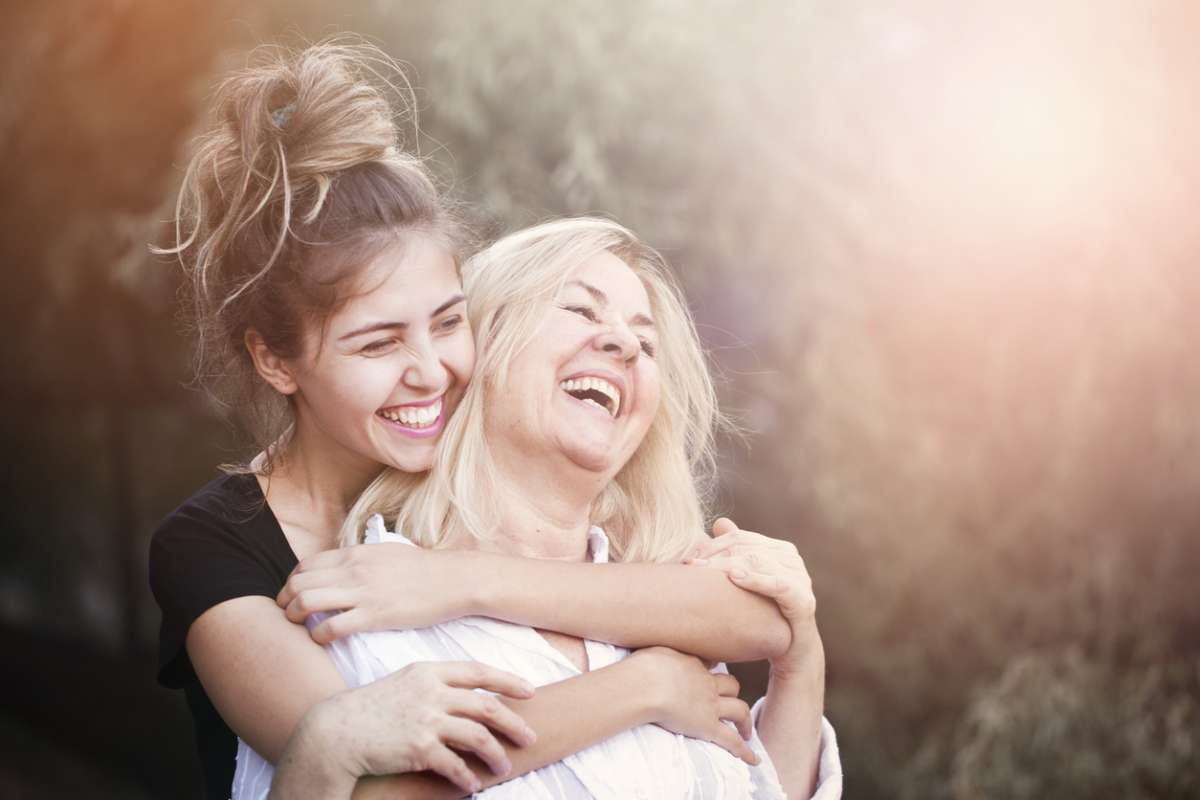 11. "Thank you for being an amazing Mother. Everything I am today is because of you!" – Great idea for a Happy Mother's Day from a Daughter 🥰
12. "Mum, you are the one who knows me inside out. I admire and love you more than you'll ever know. Have a wonderful Mother's Day!"
13. "Mum, you are my biggest inspiration and influence. Thank you for everything you have done to support me and for making me the man I am now." 
14. "You get a wish; In fact, I'm sending you two. It's the least I could do for someone as magical as you! Write them on a piece of paper, and give them to me so I can grant them later. Happy Mothers Day!" 
15. "My Mother… she is beautiful, softened at the edges and tempered with a spine of steel. I want to grow old and be like her. (Jodi Picoult)" 
16. "Sunshine
My Mother, my friend so dear,
Throughout my life, you're always near.
A tender smile to guide my way,
You're the sunshine to light my day.
~ Anon." 
17. "Today, I want to wish you all the happiness of the world, you deserve it for being a beautiful Mother. Infinite thanks for being such a good friend. Happy Mother's Day!" 
18. "Happy Mother's Day to the woman I love. I hope you feel every day how grateful I am for you and for all you do."
19. "Mum, I love you, even though I'll never accept your friend request."
20."There will be so many times you feel like you've failed, but in the eyes of your child, you are a super Mum."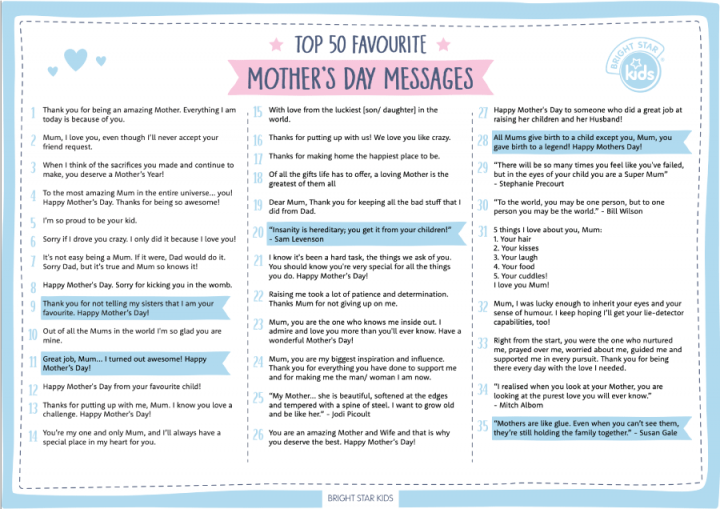 Check out our Top 50 Favourite Mothers Messages here. 
So, send your Mum, Step Mum, Nan, Aunty or friend all the love that you have this Mother's Day with a special Mother's Day card message and make it the best Mother's Day ever. If you've got some messages you'd like added to this list, feel free to send us some of your favourites.
PS: Looking for beautiful Mother's Day gift ideas this year? Check out these Mother's Day Gift Ideas.