Organisation Home Life Hacks
Welcome to our Organisation Station! Your one stop shop for all our home organisation tips, inspiration and ideas.
Over the next few months we'll be building on this wealth of knowledge. So keep an eye out for updates on home organisation life hacks ranging from bedroom organisation, to kitchen organisation and everything in between.
First up, we've found this stunning solution to organising toys…
Playroom Perfection… Beautiful Organisation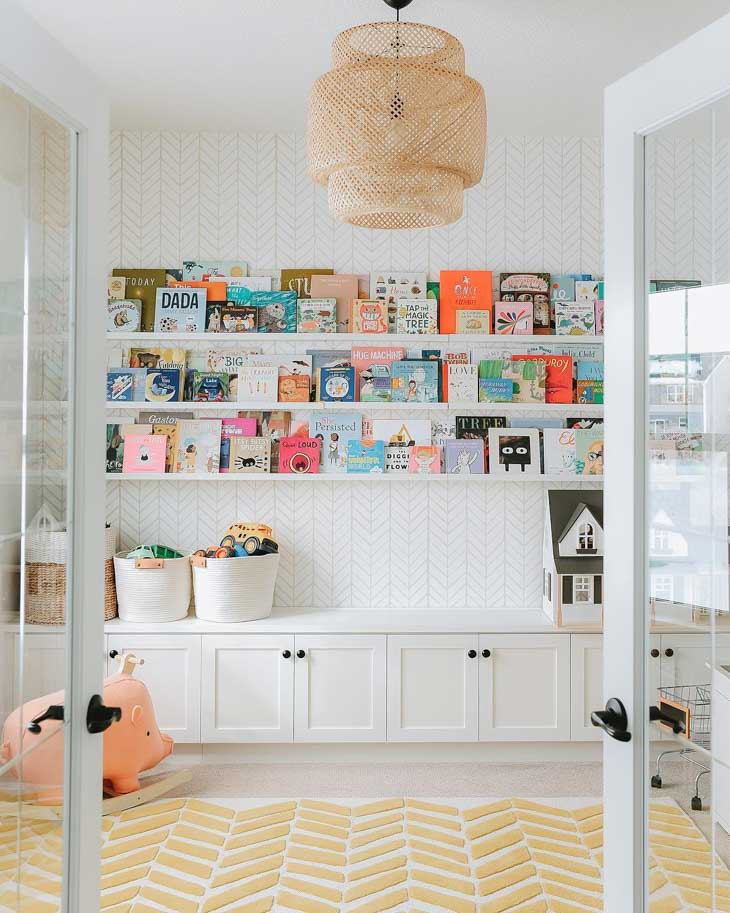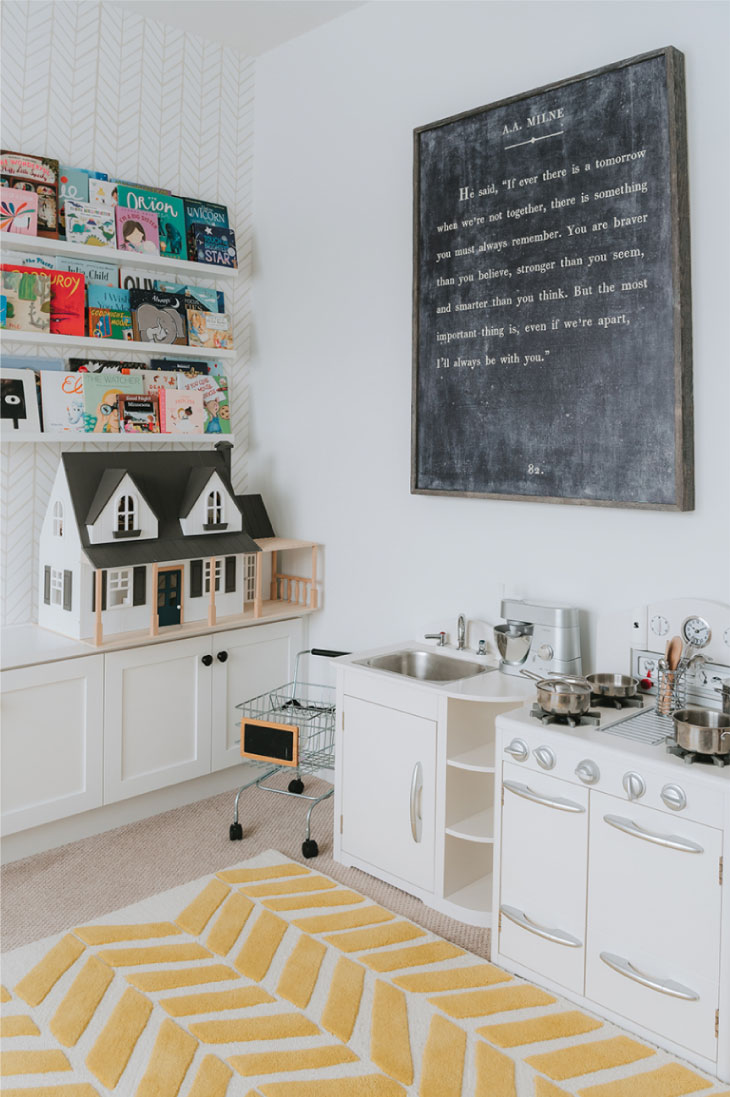 I have crowned Sydney of @sydneygerten and Sydney Gerten Blog as queen of organising kids toys. Just look at the beauty of it; it's like a studio apartment for the kids!
Find out more about the fantastic features of this home organisation life hack below.
The cabinet that runs the width of the room is a custom piece by California Closets and neatly houses tubs of toys stacked on adjustable shelving. It conceals and categorises ALL of the mess. It's basically the kids toy organiser of my dreams… Talk about GOALS!
But how on earth does anyone know what is behind each of those doors?! We have an idea. Enter Chalkboard Labels. Identify exactly where each toy is stored without any fuss. Perfect to match that chalkboard artwork too. But we suggest using a Chalk Marker; mess free and here to stay!
There are so many great ideas for organising toys here. Not to mention the IKEA kids book organiser is perfect for neatly displaying all of the kids' favourite titles at one glance. 
We went searching for the amazing accessories in this organisational masterpiece. Find them all in this list:
Dollhouse and Baskets by Target. Toy Kitchen by Pottery Barn Kids. Rocker by Crate and Kids. Rug by Crate and Kids. Pendant light by IKEA. Wallpaper by Serena and Lily.  Art print by Sugarboo & Co.
I'd like to have this talented Mumma as my toy organiser, thanks!
Check out the full details of the playroom transformation and its styling here.
Pink Playroom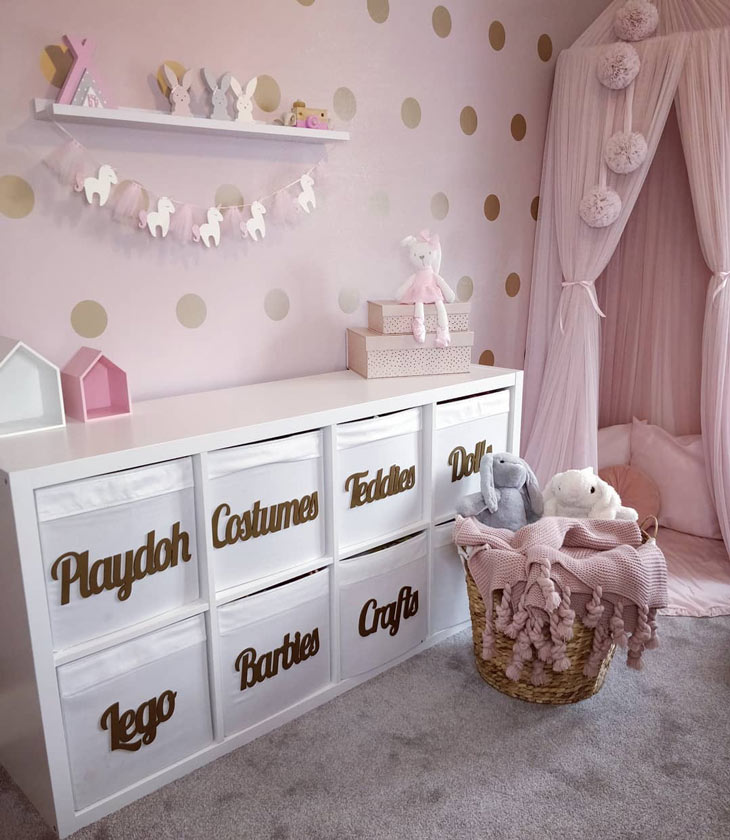 Another playroom that takes the cake is Sarah from @mybudgethome's Girls Room. As you can see it's perfectly pink and has everything organised expertly!
Thanks to Sarah we even know where to shop these organisation Mum hacks.
Cube shelving unit and drawers by IKEA. Canopy by Spinkie Baby. Drawer letters (in 100mm size and spray painted) and hanging Pom Poms from eBay.
In her post about the room, Sarah explains that her decision to label the boxes was based on ease of use and education. Sarah wanted to teach her daughter how to organise properly and also aimed to make it easier to find any toy. These are the organisation hacks that we love!
Don't forget to check out more of Sarah's DIY organisation tips here.
Precious Pantry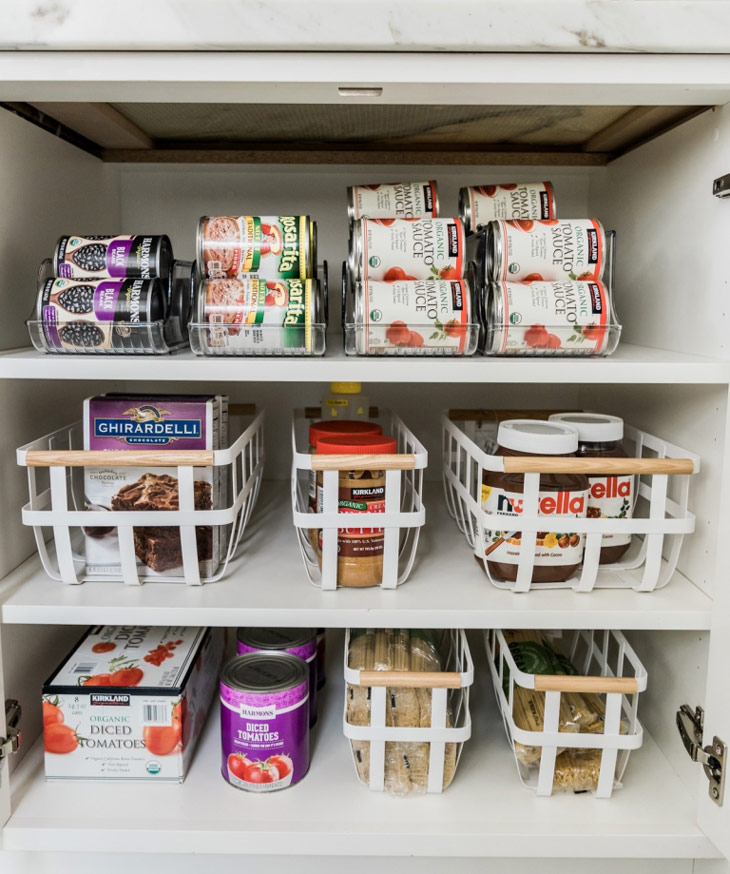 Our first home organisation life hack featuring a pantry; how satisfying is this?!
Rachel Parcell showcases her dreamy butler's pantry in a glorious 'Pantry Reveal' Post. The style expert also outlines her reasons for the strict organisation which we can definitely relate to!
We especially love how simple yet effective the baskets are. We did some digging and found where to get these awesome organisers, all from the Container Store. Can Organisers with lid and without. White Baskets.
Clever Crafting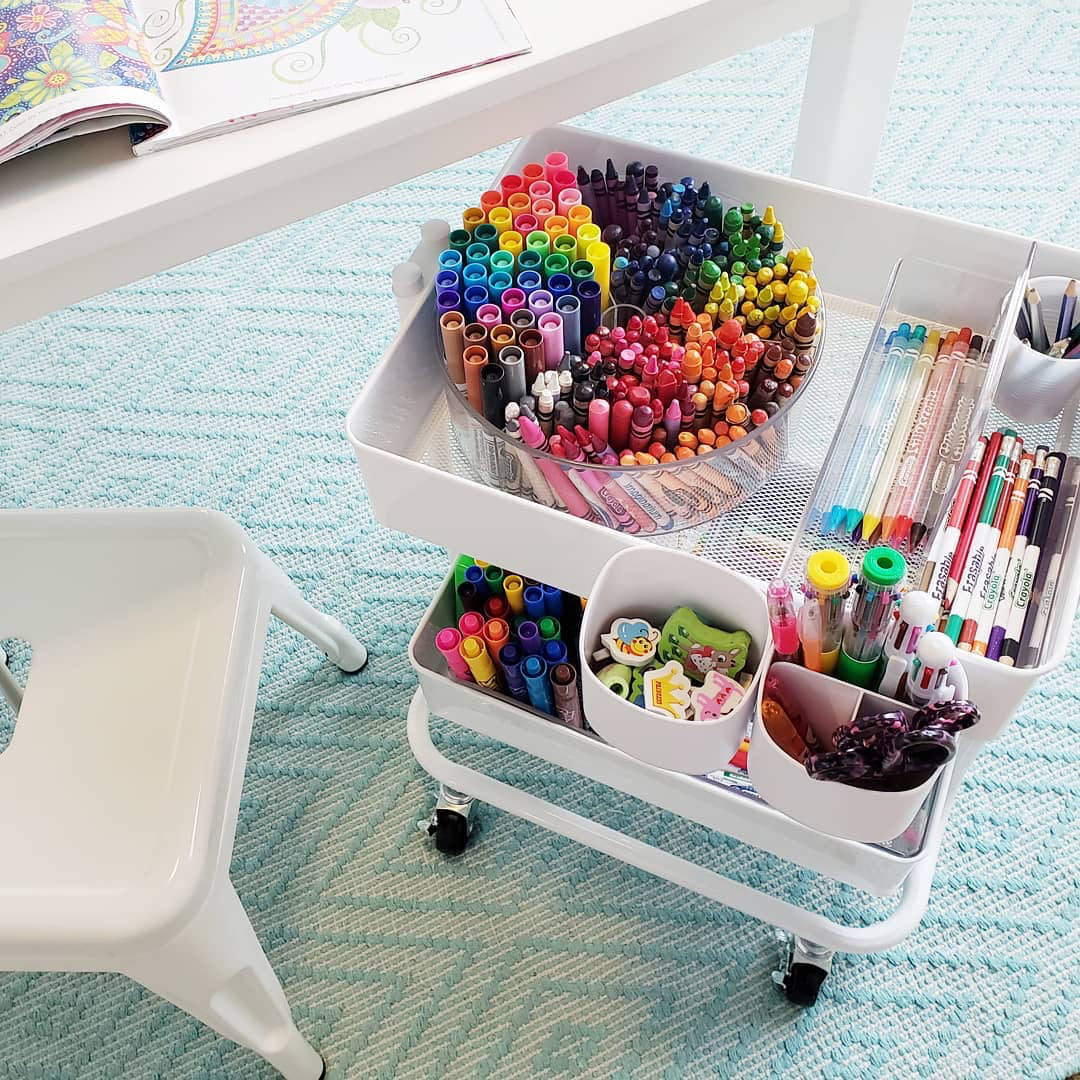 Love crafting but struggling to get your art supplies organised? You've got to love this!
Laura of @iheartbins created this awesome Art Cart using a range of clever organisation hacks and then made it rainbow. The Chaos Coordinator has pointed us toward each product used, all from The Container Store!
Rolling Cart. Lazy Susan. Divided Storage Tote. Deep Drawer Bins.
Our favourite of these hacks has to be the cart's ability to slide under a table. Laura cleverly removed the top tier of the trolley to achieve this… what a genius!
For even more details, check out Laura's "Art Cart" Story Highlight on her Instagram or the I Heart Bins blog.
Thanks for stopping by, be sure to check back to this post later for more organisation inspo!