Hide Away: 3 Tips on How To Organise Kids' Bedrooms With Cute and Clever Kids' Storage Ideas
Searching for ways How To Organise Kids' bedrooms? With loads of little things here and there, it can be overwhelming for a busy Mum. We feel you!
Here are 3 tips on how Mums organise kids' bedrooms to create a fun and clutter-free spaces. With these cute and clever DIY kids' bedroom storage ideas, you'll be able to teach them how to clean up after themselves too!
1. Categorise
If you can, separate their room into specific spaces or corners that define their purpose. A sleeping space, reading nook, play area, closet, or wardrobe. Even if it's a small room, having assigned space for each activity helps kids to know where their things are supposed to be. The best way to make this work is by having the perfect storage space for everything! From crates, tubs, and baskets, take some inspiration from some of these DIY kids storage ideas to get their bedroom neat and tidy:
Stack wooden crates up & use them as bookshelves like this one. Make sure they are stacked permanently together for safety using screws & then securely attaching them to the wall. Paint them in bright and happy colours to have a vibrant reading nook. Throw in some cushions so they can sit and read their favourite books.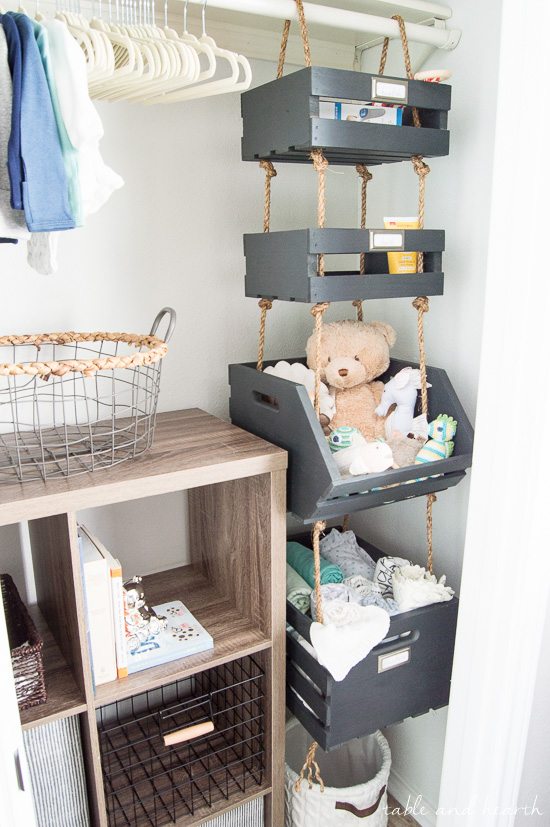 Another way to use crates is to hang them up in their wardrobe. Perfect for small rooms that don't have room for extra shelves that eat up the floor space. Hanging storage is the perfect solution to this! You can have each crate assigned to different things like toys, clothes and even small items for babies like nappies, and even toiletries!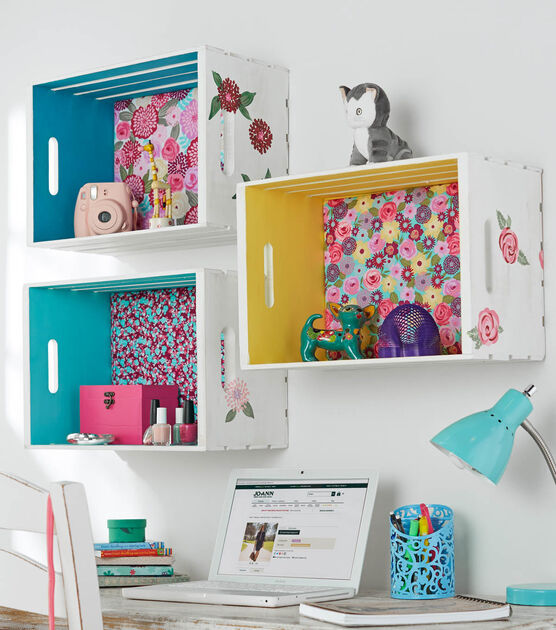 Having floating shelves is a smart way of keeping things organised. It's also a great space saver! Paint and decorate wooden crates to coordinate them with the rest of your kids' bedroom. Display their favourite toys, artworks, and other knick-knacks. These look good above their study desks too and won't take up space when they do their homework.

2. Colour Code
It's easier to identify your containers like tubs and baskets through a colour coding system. This works well too when you've got a bunch of kids. You can assign them their own colour for their storage so they know which one is theirs. Below are some DIY Kids storage ideas using colour code organising: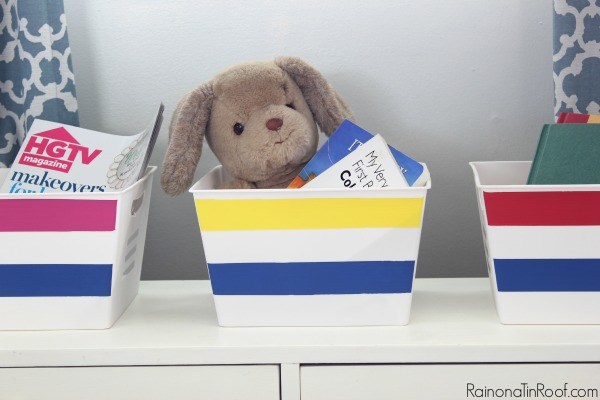 Got a lot of tubs and baskets already? Give them a purposeful makeover by painting them in colourful stripes that assign each one according to what items they hold.
Coloured Fabric Covered Storage Baskets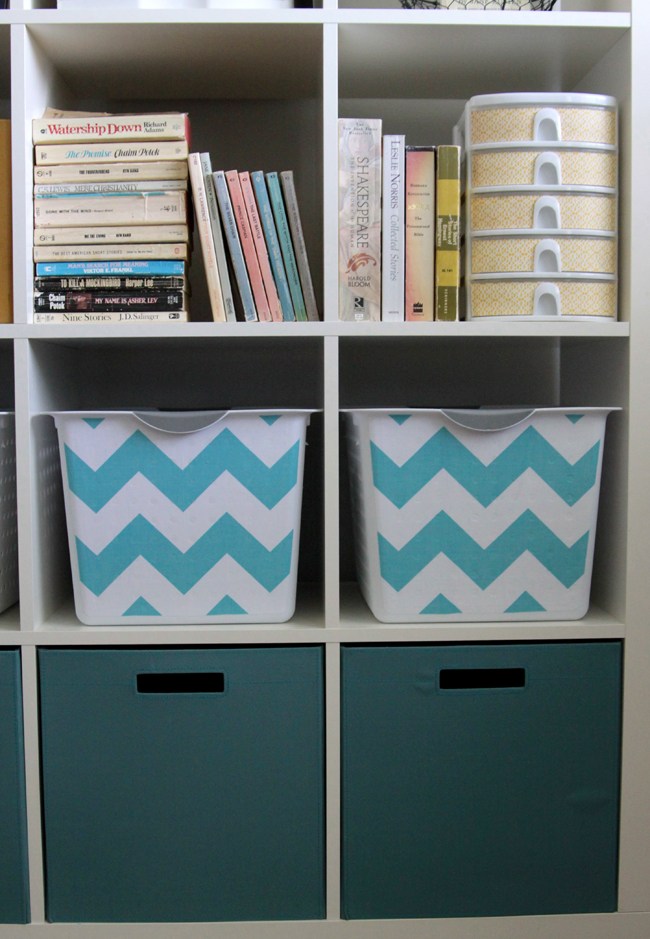 You can also use coloured and printed fabrics to decorate your storage tubs, boxes and baskets so it looks more fun and playful!
3. Label
Aside from having a specific corner or colour, labelling your kids' storage crates, tubs and shelves will help your kids to know what each crate contains. It's also great to have nice labels to match the aesthetic of their rooms. Here are some storage containers with labels that keep things organised and still look pleasing to the eye:
Wooden Storage Crates with Wheels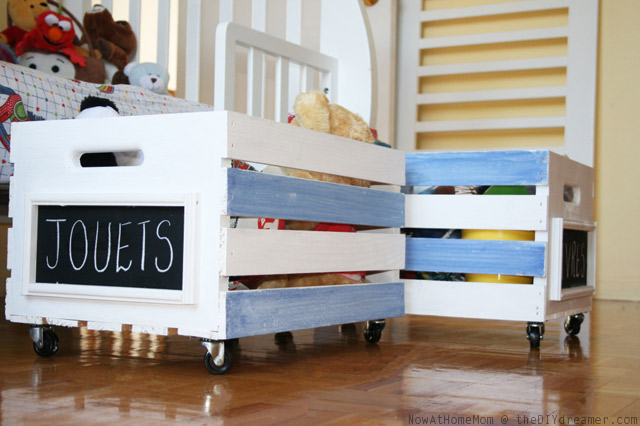 Kids love their toys and they go everywhere with them. So why not put wheels on their crates so they can also easily put them back wherever they are in the house. Add chalkboard labels so they know what's inside of each one. They're perfect because they're erasable and reusable!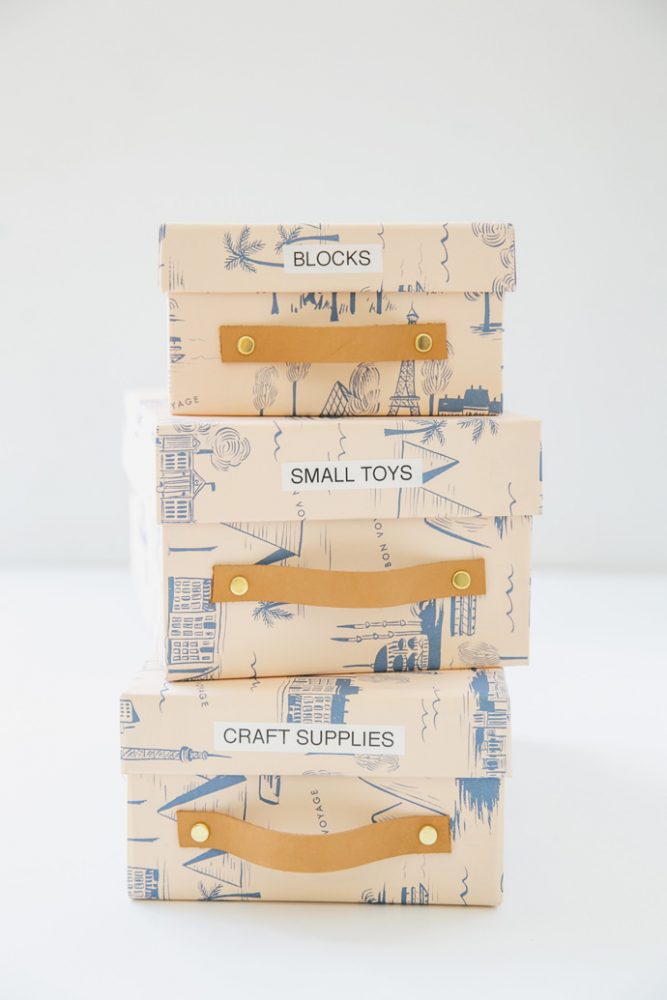 No need to buy new crates and tubs for extra storage. Make use of shoe boxes or cardboard boxes at home and turn them into cute storage by covering them in nice wrapping paper; then you can add your personalised labels. It's a fun DIY project that you can do with your little ones too.
These are just a few clever ideas for helping to keep things organised in your kids' bedroom. Don't forget to share your own storage hack ideas with us too by tagging us on Instagram & Facebook… We might just feature your idea in our next blog article.
Want More Organisation Hacks and Ideas?
Read more about home organisation tips and inspiration in our article, Organisation Perfection. There's also a full article on Colour Coding and Labelling that will help you level up your organisational skills & teach your kids to be more independent too.
Need To Label Your DIY Kids Storage?
If you've created some of our DIY Kids Storage Ideas, you'll want to have labels on them too! We've got chalkboard labels for your crates and shelves. We've also got some tub labels for your smaller storage bins, jars, baskets, and those recycled boxes. And if you've saved some space because of these clever storage ideas, you can decorate it with our wall decals and wall signs. Perfect for kids' nooks and corners! The best part? These are all made in Australia and shipped super fast! You and your kids will love them!