Faux Fireplace: 10 Easy DIY Faux Christmas Fireplace Inspo
Fun Kids Christmas Crafts,Kids Activity,Kids Christmas,kids crafts
Faux Fireplace: 10 Faux Christmas Fireplaces To Inspire You
10 DIY Christmas Cardboard Fireplace Ideas
Want a Faux Fireplace for Christmas? A DIY Cardboard Christmas Fireplace is perfect for your kids & for bringing that extra touch of Christmas love to your home.  They're safe and super easy to make too! 
Get excited for Christmas with our 10 Faux Christmas Fireplace ideas and tutorials that you can make easily with cardboard and just a few other arts & craft supplies!
1. Ho-Ho-Holiday Fireplace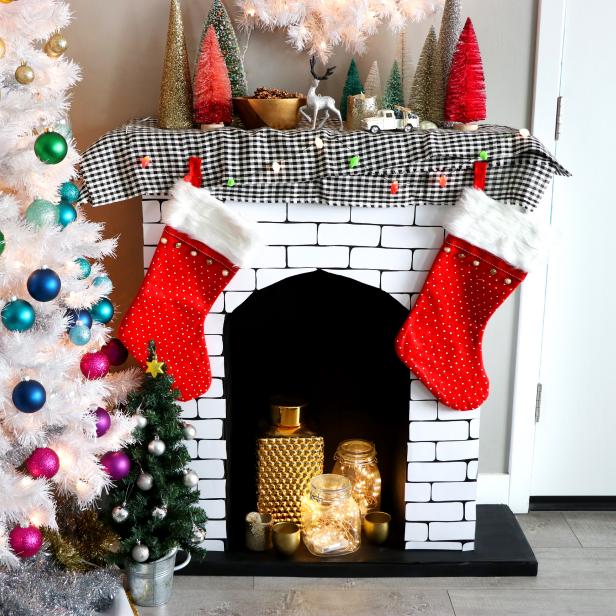 Here's an easy DIY Cardboard fireplace that not only gives you all the holiday vibes, it looks incredible too. Love those fairy-light jars too!
2.  Christmas Fire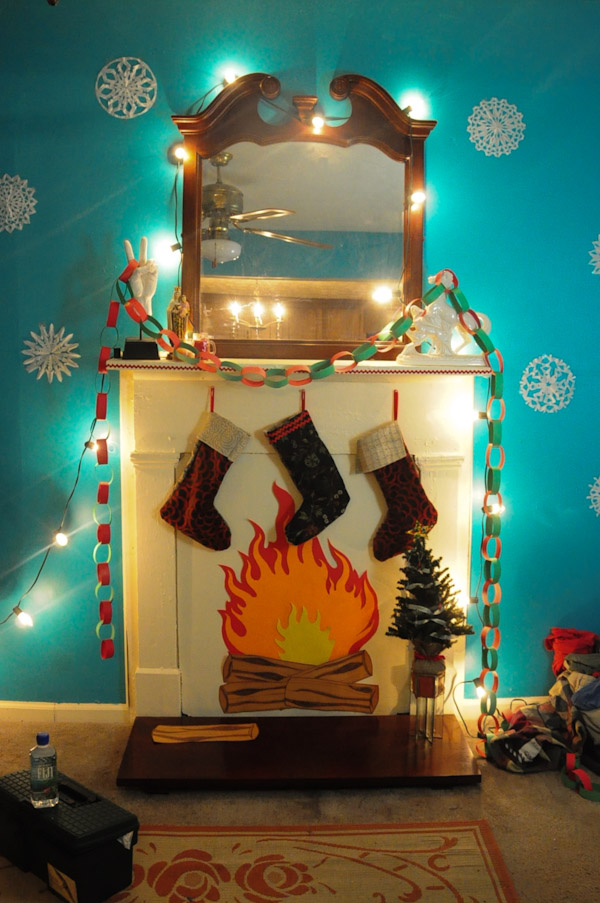 This super simple faux fireplace is all about the faux Christmas fire! Just add a few more Christmas decorations like a mini Christmas tree and a paper garland… Let the kids go crazy with making their own decorations for this one. 
3. Shabby Chic Faux Fireplace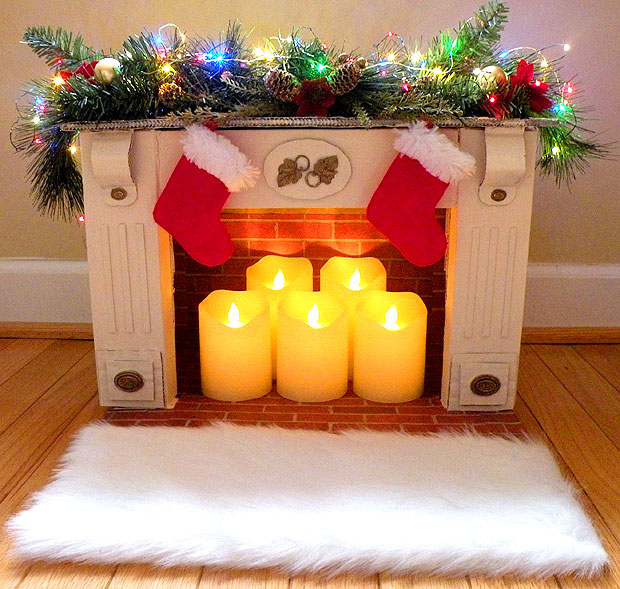 A space-saving faux fireplace? Why not?! Here's a mini fireplace that you can put anywhere in your house. Mini doesn't mean you can't go big on Christmas vibes. So go ahead & add a garland with Christmas decorations and some mini stockings too!
4. Faux Brick Stone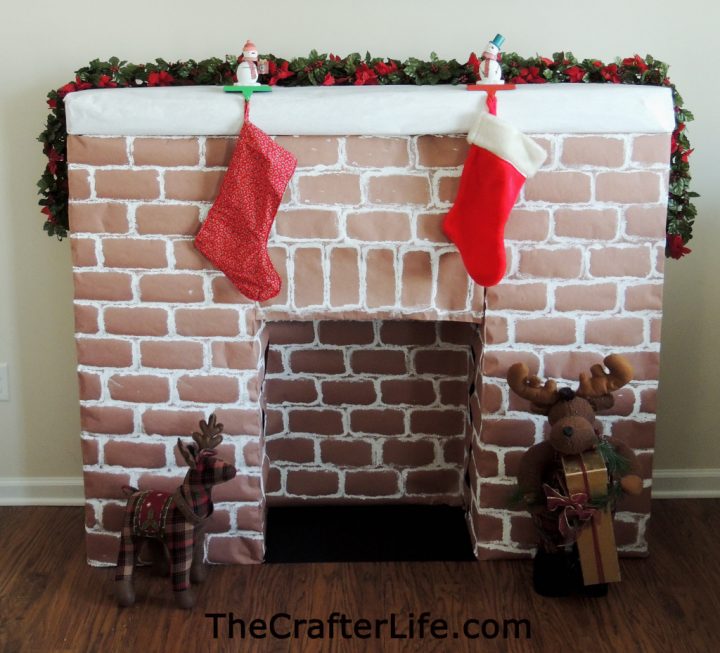 A faux brick fireplace mantel makes it look closer to the real thing, the trick is though… it's made out of cardboard! Go OTT with your decorations on this faux fireplace, or keep it simple like this one here. No matter how you decorate it, it's going to bring that extra touch of Christmas love to your home.
5. Farmhouse Faux Fireplace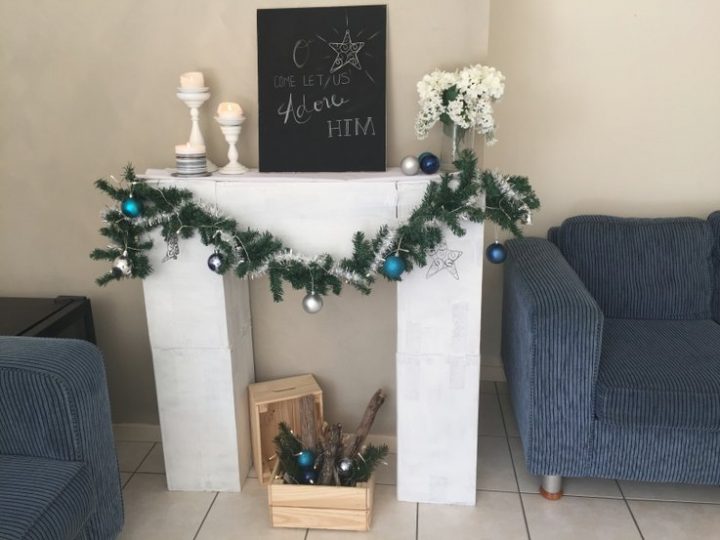 In love with this farmhouse faux fireplace idea? Us too! It's a super clean and sleek Christmas decor idea, perfect for the minimalist. Even without fire, those logs in the wooden crates are giving us the warm Christmas vibes we all love. That chalkboard sign is an amazing touch too! 
6. Rustic Faux Fireplace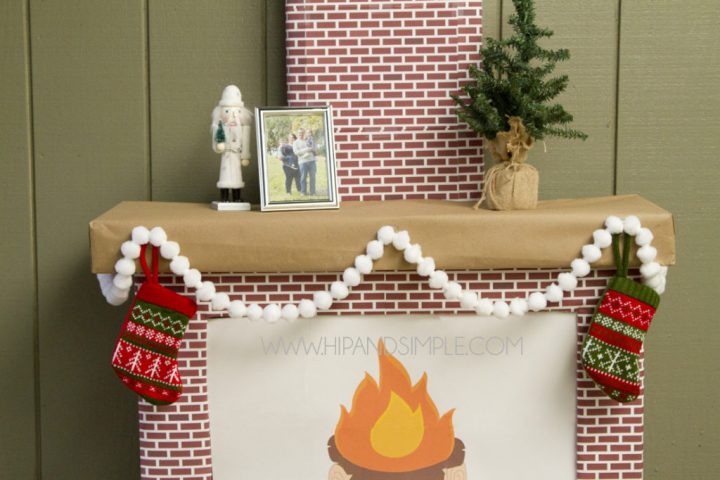 Crafting this faux fireplace is super easy. Simple rustic decorations like the mini Christmas tree wrapped in hessian, and those knitted Christmas stockings are the perfect additions to this faux fireplace. 
7. Christmas Mantel Shelf
You can skip the fire and still make an awesome Christmas mantel with this DIY cardboard craft shelf. It's perfect for people in small spaces.
8. Cardboard Christmas
An easy DIY Faux Christmas Fireplace made with heavy cardboard & decorated with colourful Christmas balls and lights… yes, please! You could paint it any colour you want too!
9. Paper Mache Stone Fireplace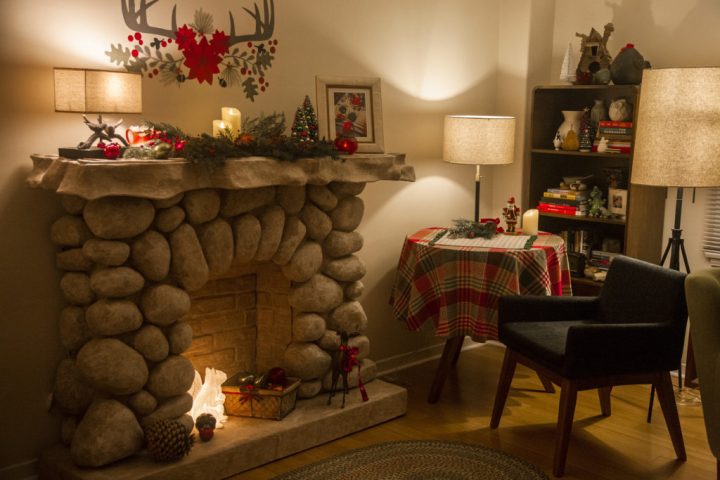 Creating a faux fireplace is actually pretty easy with these DIY paper mache stones. They really look like the real thing, don't they? Add some pine cones and twigs with those garlands and candles, and it'll be looking perfect! 
10. Candy Wonderland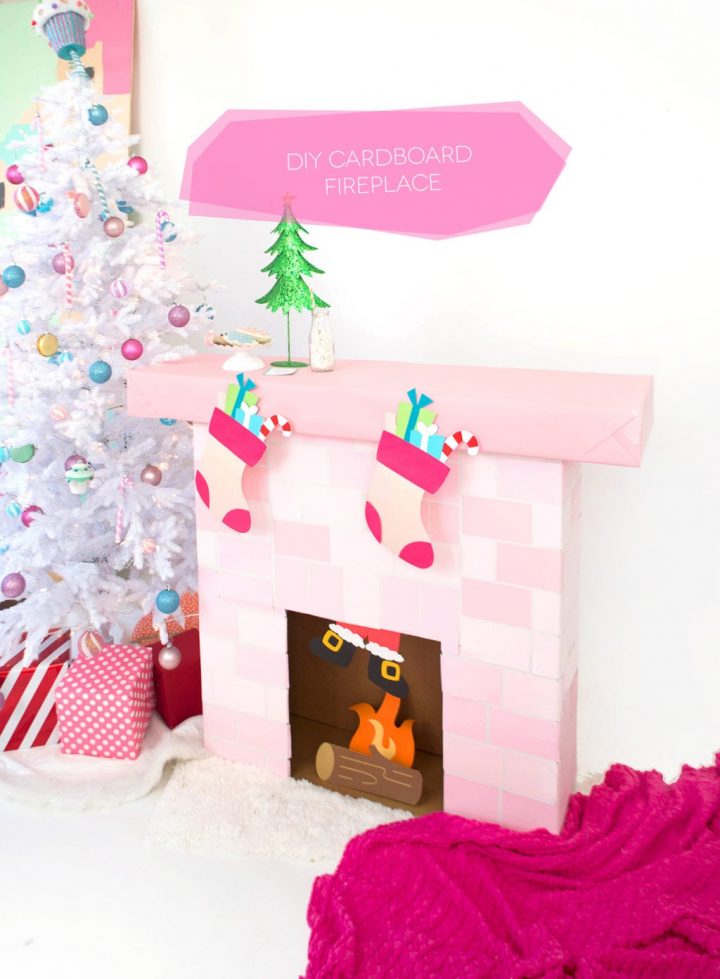 What a yummy-looking Candy inspired faux fireplace this is! This DIY cardboard box fireplace in pink is such a dreamy idea. Even those Christmas stockings and fake fire on a log are just super cute! Change up your colour theme each year & celebrate Christmas in all the colours of the rainbow. 
Want To See More Christmas Cardboard Craft Ideas And Activities?
Check out our blog article on Christmas Tree Ideas and Christmas Crafts for Kids. We've also got a bunch of free printables your kids will enjoy like our Christmas Advent Calendar Countdown and a colouring-in Christmas Placemat. 
Looking For Personalised Gifts for Christmas?
We've got heaps of Christmas gifts that you can personalise for your family and friends. Check out our Personalised Christmas Gifts range. Giving lots of gifts? You'll love our jumbo Santa sacks and jumbo Christmas stockings! They're awesome because you can use them year after year & they're machine washable. The best part? These are all made for you in Australia and shipped super fast! You're going to love them!