Let your kids have fun eating these Back To School Healthy Snacks. Here are 16 cute and easy-to-make healthy snacks you can make and pack for school. 
1. Lady Beetle Watermelon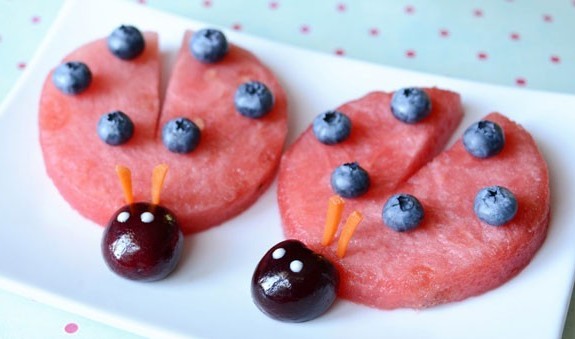 For the summer fruit loving kid (and adult!) this lady beetle made from watermelon just looks so delicious!
2. Personalised Fruit Kebab
How clever using alphabet biscuit cutters to cut letters out of fruit to make a personalized fruit kebab.
3. Sandwich Kebab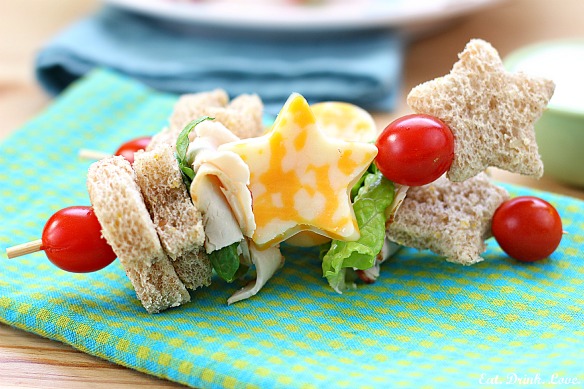 These sandwich kebabs are a great alternative to a plain sandwich and the novelty of it might please a fussy eater.
4. Hungry Caterpillar Stick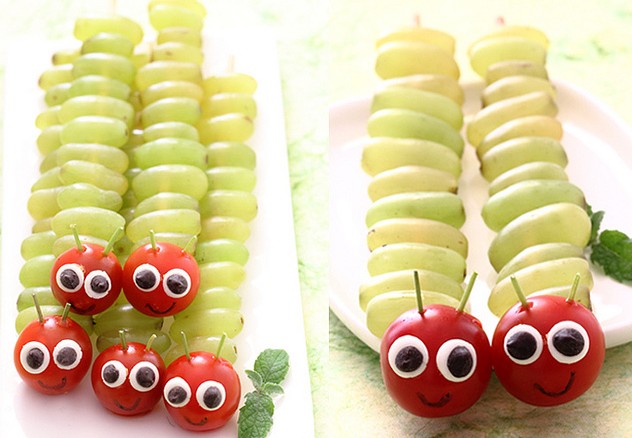 Do you have a Little Hungry Caterpillar fan in your house. Delight them with this Hungry Caterpillar fruit stick and watch them gobble it up!
5. Dragonfly Garden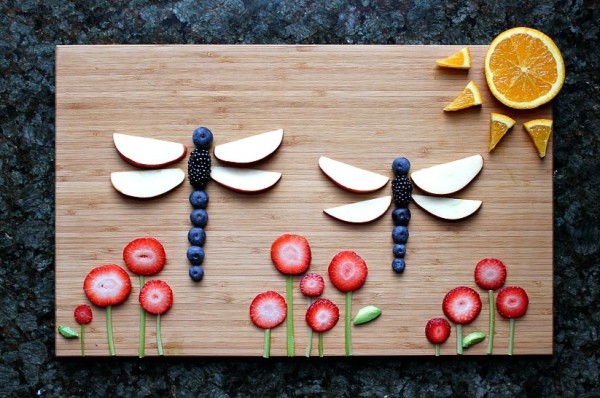 How pretty is this dragonfly garden scene! I love the vibrant colours of the strawberries with the blueberries.
6. Cute Fox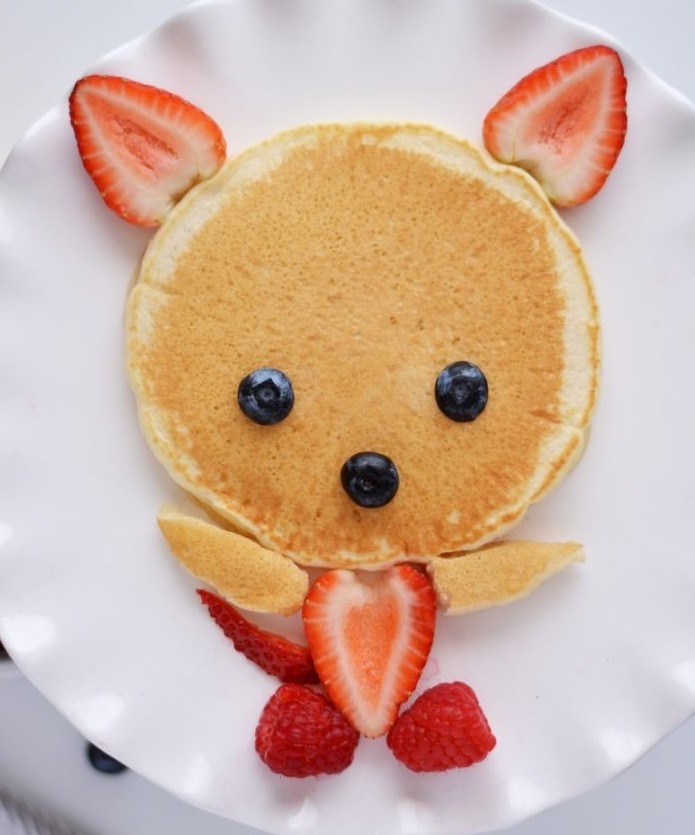 Aww, isn't this so sweet? Next time you make pancakes, make this cute fox and I'm sure your little one will be delighted.
7. Three Fishes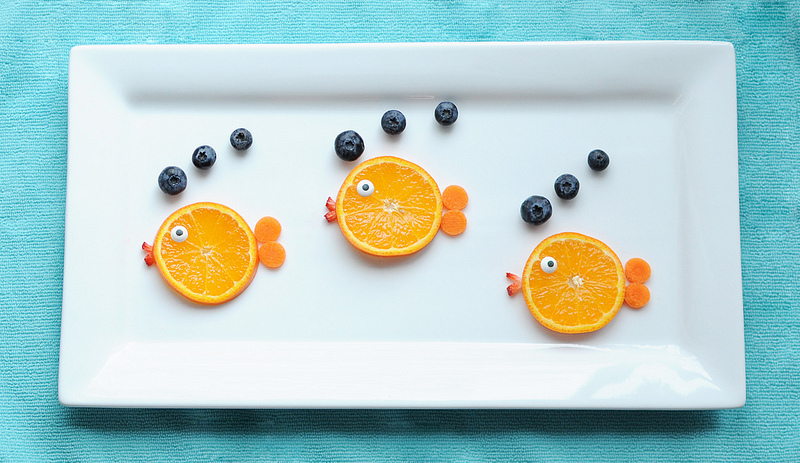 Take an adventure underwater and recreate these three fishes. Tell your child to pretend that they are a hungry shark!
8. Frog Prince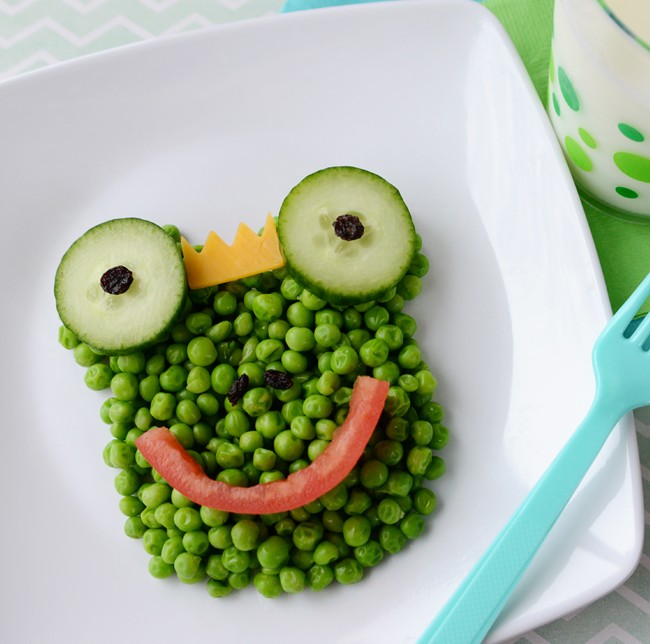 Are there any pea lovers out there? This frog prince might delight them.

9. Easter Rabbit
Will this bunny become a traditional Easter breakfast in your household?
10. Cartoon Wrap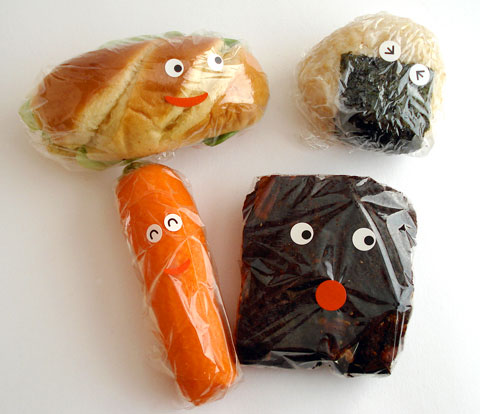 I love how cute and simple this idea is! Can you imagine the smiles on your child's face when they open up their lunch box to find these cartoon characters?
11. Butterfly Snack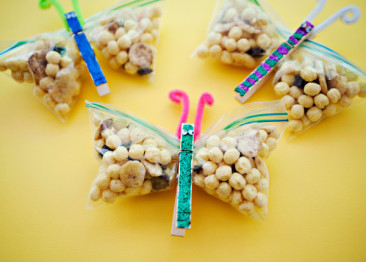 I can imagine lots of little girls will love this butterfly snack idea. You can even do it together as a craft item one afternoon. Decorate some wooden pegs, style antennas with pipe cleaners, and clip onto a ziplock bag.
12. Owl Toast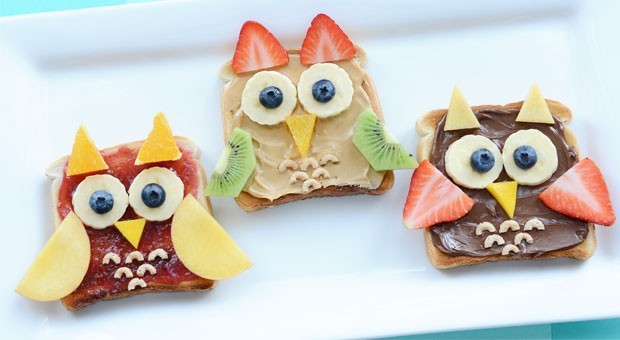 I never thought that toast could be so fun! I love that I have all the items I need in my fridge and pantry to make these owl toast. Something I look forward to doing this weekend for the kids!
13. Bear Pizza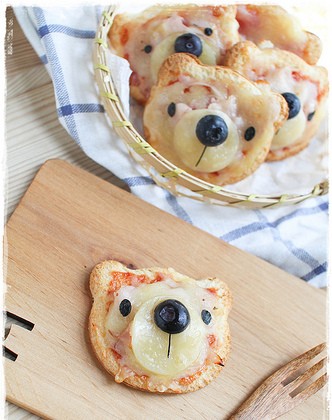 How gorgeous is this bear pizza. Use a shape or sandwich cutter to cut the shape out of bread. Make your pizza as you would and place a round-shaped cheese nose and details on the face. Simple!
14. Flower Power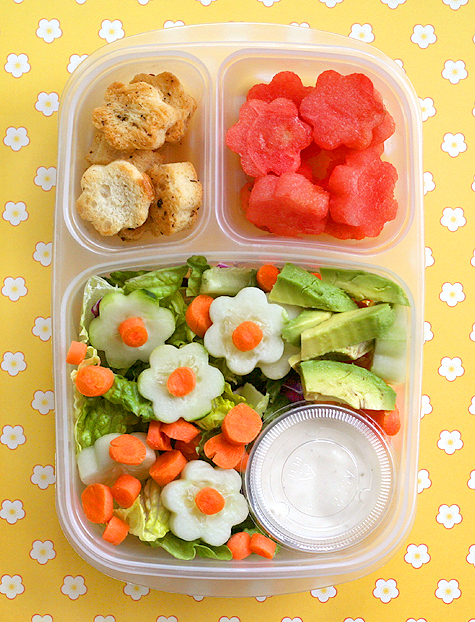 Using only one cookie cutter, you can repeat the shapes with different items in their lunchbox. This flower themed lunch would make a lovely surprise for anyone!
15. Teenage Mutant Ninja Turtles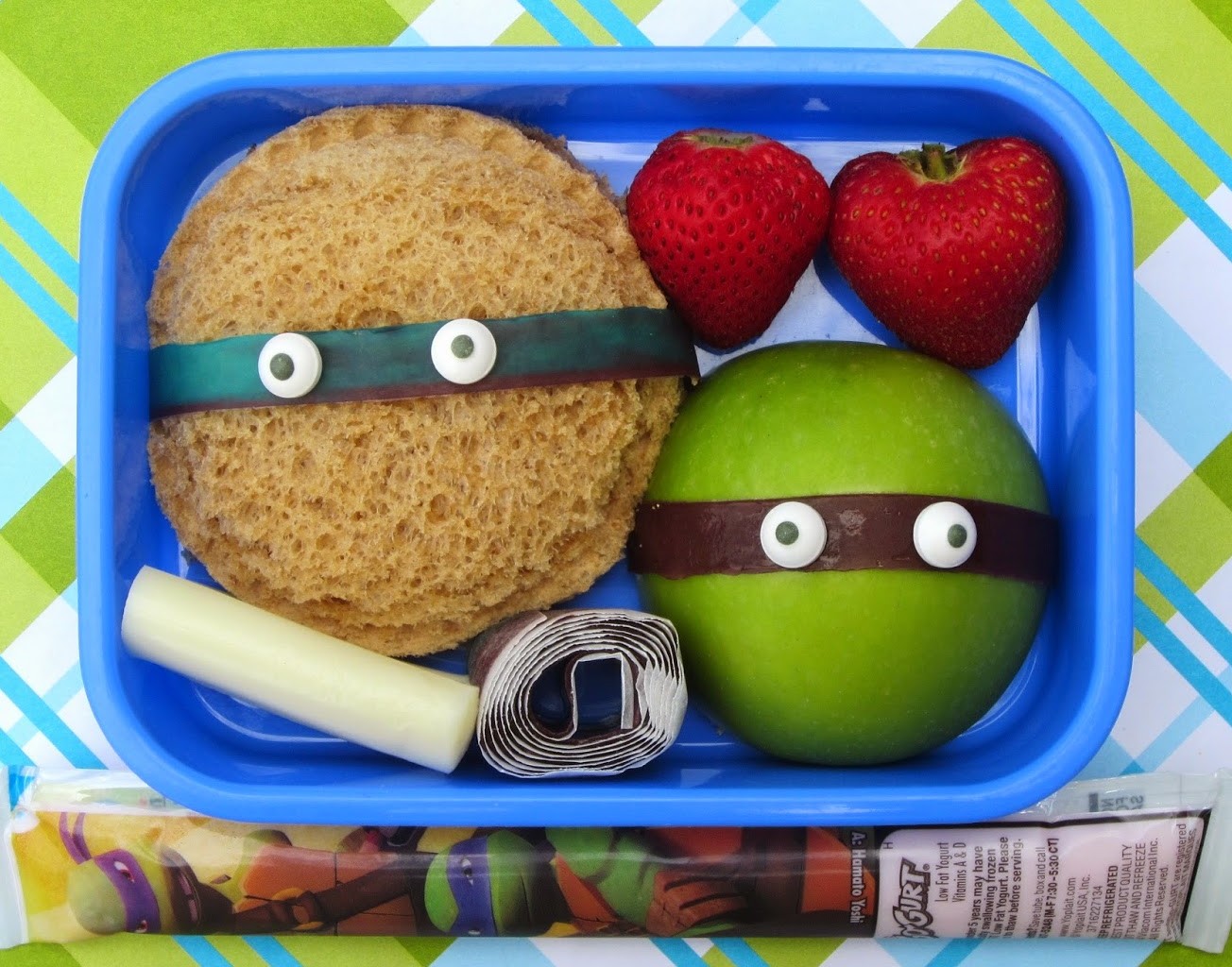 Does your little one love Teenage Mutant Ninja Turtles? Use strips of fruit roll up for the mask and add some eyes. If you can't get hold of of candy eyes, you can use mini marshmallows cut in half with a sultana.
16. Koala Sandwich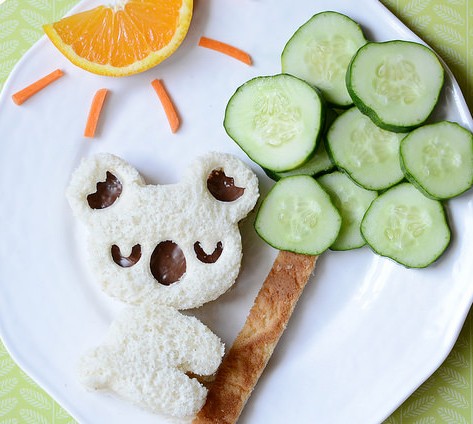 I have seen lots of cute Japanese bento box accessories you can buy online or in asian shops and they have lots of interesting sandwich cutters like this koala one. If you love food art, invest in some to bring delight to your kids!
Speaking of bento box…
We've got super cute bento boxes and lunch bags you can put all these cute and yummy snacks into!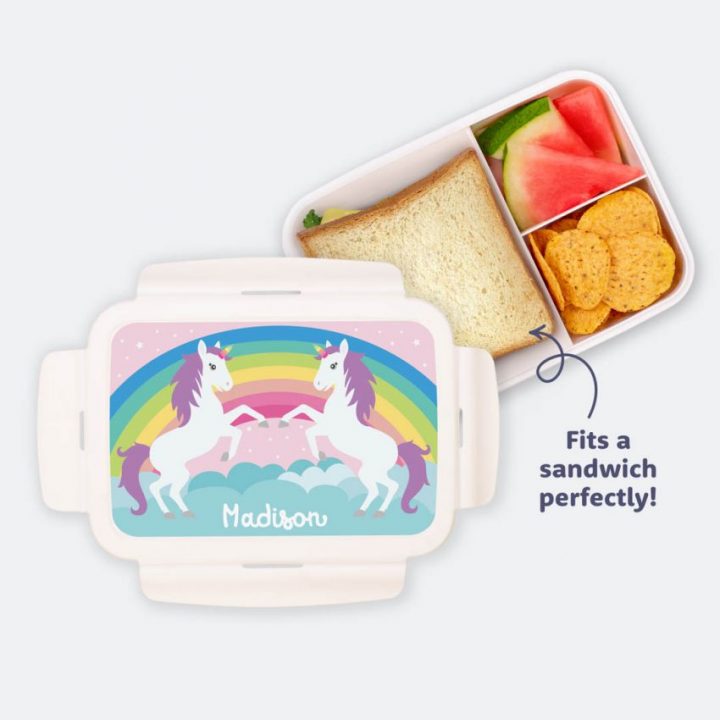 Got Some Back To School Snack Ideas?
Post your cute food and lunch box ideas and share with us what fun and creative things you have come up with! Tag us on Facebook and Instagram.
Want More Back To School Food Ideas?
Check out our easy Back To School Lunch Ideas Let your kids enjoy their lunch at school with a cute and sweet note. Download our cute Lunch Box Printable.
Looking for Cute Personalised Lunch Boxes?
Your kids will love our super cute bento lunch boxes. Have fun personalising them using our fun Lunch Box Labels. They fit perfectly into our lunch bags too! The best part? These are all made in Australia and shipped super fast. Mum and kids love them!