Back to School Checklist – Free Printable
back to school,school,school essentials
Back to School Checklist
It's almost back to school supplies shopping season again! Whether your little one is starting school for the first time or going back to school for a new school year, our Back To School Checklist takes the stress out of school preparation!
Scroll to the bottom of this page to download your free checklist. 
Don't forget to check out our Back to School Shopping Tips:
1. Buy quality school essential items online. 
Everyone loves a bargain, but it's not really saving if you have to keep spending small amounts over and over again each time something breaks. Choose good quality and buy them early so you can save more! Skip those long lines and shop online.
Get your kid's school essentials from Bright Star Kids. We offer a 100% happiness guarantee. Our philosophy is that your kids' stuff should last all year, so that you don't have to keep replacing items that just don't last. Signing up for promo newsletters is the perfect way to ensure you don't miss out on any mid-year promotions. 
2. Label everything!
Heaps of kids head to school with the same pencil cases, lunch bags, stationery, and backpacks that it's super easy for things to get mixed up or lost. Using name labels for lunch boxes, drink bottles, and even uniforms is the easiest way to make sure you say goodbye to lost property or germy mix-ups!
3. Personalise It!
Create super cute personalised kids name labels and stick them onto all of your kids' belongings. Coordinating them with other school supplies with a cute design in their favourite colour is a nice touch, too! They'll feel extra special when all of their things have their name on them.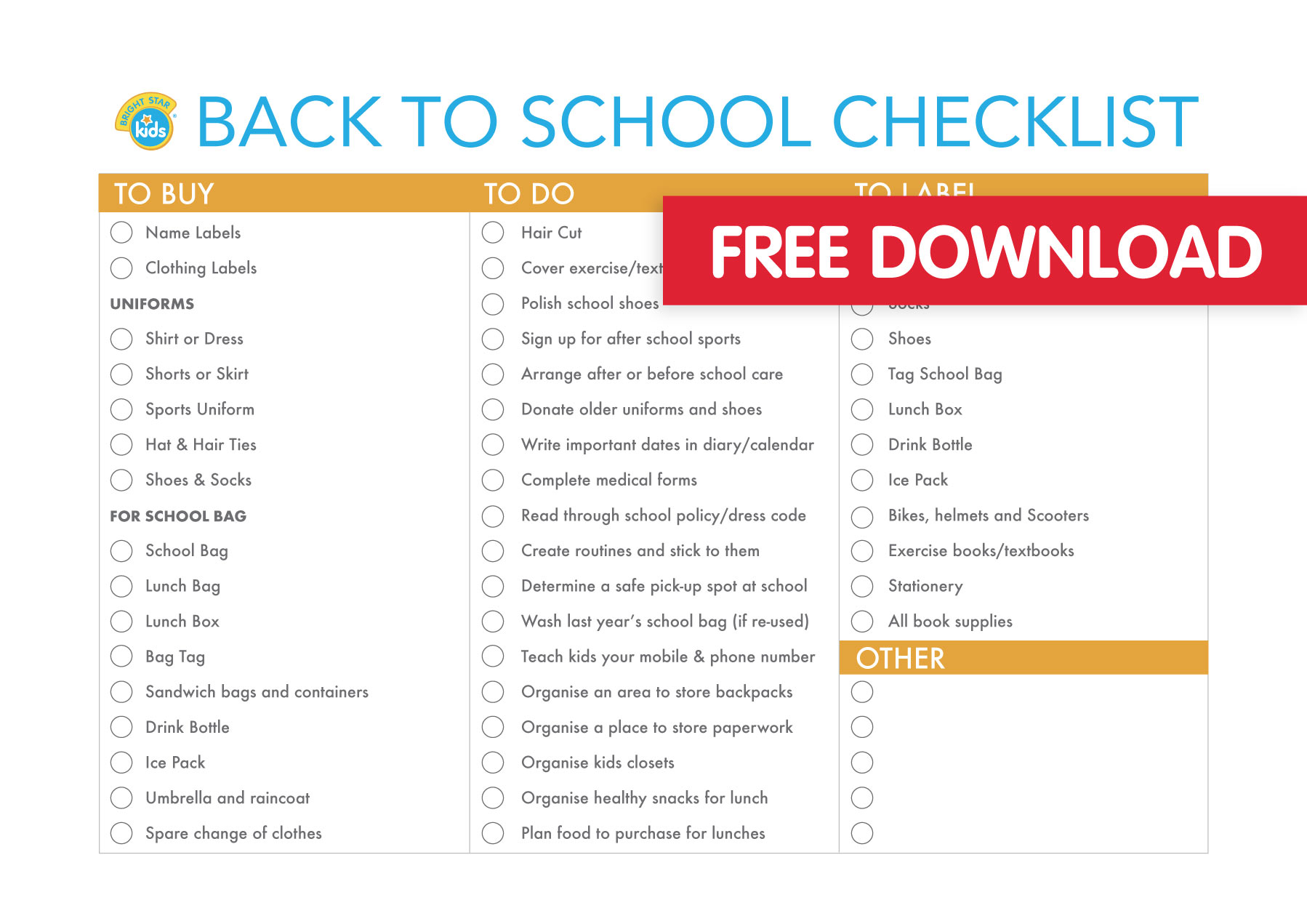 Have trouble downloading?
This can happen if you have an ad-blocker installed, please disable the blocker on this page so that the printable can open in a new window for you to download. If you're still having issues, please contact hello@brightstarkids.com.au and our friendly customer service team will be more than happy to help!
Need More Tips on How To Easily Prepare Your Kids for School?
Make sure to read about our School Morning Routine Tips and How To Make Friends in School. So your kids can easily transition back to school and have a great time. 
Looking for Cute and Fun Personalised School Supplies?
You'll love our range of super cute school name labels. We have heaps of different name labels that can go on lunch boxes, drink bottles, pencil labels, socks, and so much more! They're waterproof and stay stuck all year, so they last and last and last. We've also got a selection of iron on clothing labels that has saved thousands of mums from having to replace school clothes and uniform items. The best part? They're Made to Order For You in Australia and shipped super fast. Mums and kids love them!