100+ Crafts For Kids

Can't leave the house? Kids need some entertaining? We've got a MEGAAA list of crafts for kids at home. You'll find over 100 links to some of the easiest, most fun craft ideas for kids & you'll want to share it. It's a game-changer!
Here are our Top 10 Faves: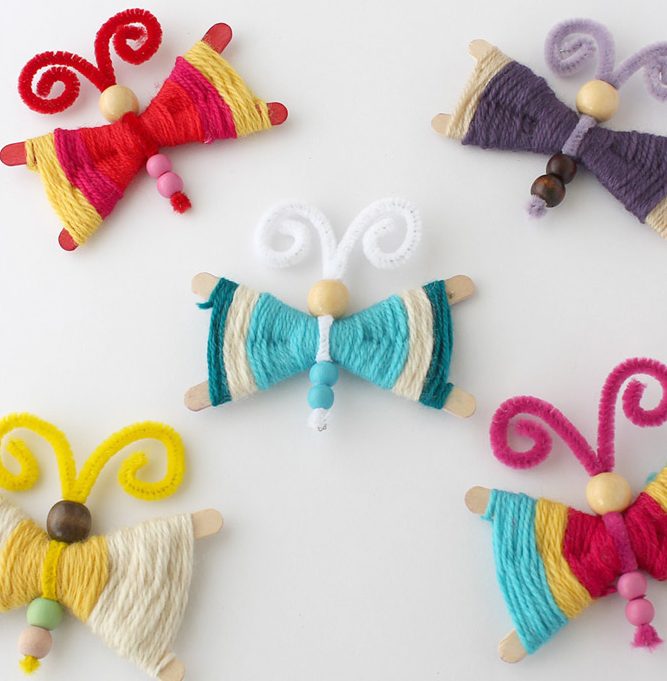 1. 8 Anzac Day Craft and Food Ideas – Honour our service men and women, past and present, with these activities.
2. Mother's Day Activity Sheet – Show Mum or Grandma how much you love her by filling out this free printable.
3. 10 Easy Cardboard Crafts for Kids – Art that you can recycle.
4. 18 Shoebox Craft Ideas – Art you can recycle.
5. 11 Weaving Projects For Kids – Improve their fine-motor skills.
6. 17 Paper Plate Craft Ideas – Craft with the stuff you have at home.
7. 17 School Holiday Boredom Busters – Never hear the words "I'm bored" ever again.
8. 22 Egg-cellent Egg Carton Crafts – Cut, Paint, colour, stick… plenty of skills to learn here.
9. 15 Kid-Friendly Origami Crafts – Improve their comprehension & fine-motor skills here.
10. 14 Pokemon Craft & Fun Activities – Craft ideas for kids who are in training to become the next Pokemon Master.
Don't stop now! Scroll down for our list of 100+ crafts for kids
Crafts For Kids Mega List
Check out the craft ideas for kids list below & prepare to unleash your kids' inner artist!
Crafts For Kids – Toddler +
1. Sensory shaker bottle – Super easy & they'll play with it for hours.
2. Stained glass window – Let that light shine through.
3. Toddler Dot to Dot – Heaps of free dot-to-dot printables.
4. Toddler Collage – A great activity for toddlers to express themselves through art.
5. Do some sticker art projects – What little one doesn't love stickers!
6. Free Play Art – Sensory rich art activities.
7. Colour Mixing in a Bag – Hands on approach to learning about colours.
8. DIY shapes book – Great for developing fine motor skills.
9. Make Salt Dough – Fun for the little ones, and a great gift for the grandparents.
10. Finger Paint – Messy, but so much fun!
11. Handprint Art – Combine learning & fun by making alphabet art.
12. Make a Sensory Bag – Sensory play with food from your cupboards.
13. Scribble in the Bathtub – Open ended play at bath time.
14. Make a batch of play doh – So easy, and can be played with again and again.
15. Do a chalk photo shoot – Cute mementos for family and friends.
16. Celery Stamp – Perfect for making cards or wrapping paper.
17. Tandem drawing – Spend some quality time creating together.
18. Sticky Paper Collage – If your toddler enjoyed making the stained glass window, they'll love this!
19. Paint Leaves – Collect leaves from your garden or neighbourhood.
Crafts For Kids – Kindy +
20. Shaving Cream Paint – Two ingredients outdoor painting fun.
21. Bark Painting – Collect some bark on your walk to use it as a canvas.
22. Leaf Threading – A lovely way to engage with nature.
23. Pasta Jewellery – Wearable art that helps develop fine motor skills.
24. 3D Paper Rainbows – Colourful 3D art.
25. Family Portrait Painting – Beautiful keepsake to frame.
26. Paper Chains – Decorations for any occasion!
27. Magic Milk Experiment – Science and art in one.
28. Pressing Flowers – Head out in the sun and pick some flowers.
29. Stick Gnome Painting – Perfect for planter pots.
30. Michelangelo drawing under the table – Create your own Sistine Chapel inspired artwork.
31. Frozen Dinosaur Eggs – Channel your inner archaeologist.
32. Paper Cut-out Family –
33. Paper Plate Whale – See if you can make a whole pod.
34. Can you draw or paint with your feet? – paint + feet = a whole lot of fun.
35. Hand Tracing – Try different hand poses to create different animals.
36. Tape Resist Paintings – Abstract art, cityscapes, trees – limited only by your imagination.
37. Window Painting – Perfect for rainy days.
38. Button Stampers – Makes for unique gift wrap or cards.
39. Plant Markers for Gardens – For the washi tape fans.
40. Autumn Wreath – Theme your craft to the season.
41. DIY Veggie stamps – An exception to the 'don't play with your food' rule.
42. Glitter Glue Snowflakes – Fans of Frozen will love this!
43. Salad Spinner Art – Add glitter paint for something extra special.
44. Marble Painting – Fun and easy, the kids will want to do this one over and over again.
45. Container Painting – Burn some energy while creating a masterpiece.
46. String Art – Art & geometry in one.
47. DIY Heart Stamp – Super cute for Valentine's Day.
48. Recyclable Art – Budget-friendly crafts.
49. Magnet Painting – The perfect blend of art and science.
50. Fake Snow – Make a beautiful wintery scene, or paint your own Olaf.
51. Paper Airplanes – Whose will fly the furthest?
52. Suncatchers – Paint your room with colourful light.
53. Sponge Stamps – Painting without too much mess.
54. Cereal Box Aquarium – Pretend field trip anyone?
55. Recycled Crayons – Never throw away your crayons again.
56. Button Art – All the buttons for your cute little buttons.
57. Tissue Box Monsters – Monsters you can recycle later.
58. Toilet Paper Roll Crafts – Super cute & mega easy.
59. Chalk Ice – Get outside & chalk the place up.
60. Scrape Painting – A totally different way to look at painting.
61. Dot Markers Art – Bingo markers have never looked so fun.
62. 3D Art – Sculpted art for kids.
63. Make Stepping Stones – Hop skip & jump with these.
64. Cardboard Box Town – Build your own town & recycle it later.
65. Marble Run – Where the marble goes, nobody knows.
66. Popsicle Stick Catapult – It's physics & it's fun.
67. Air Dry Clay Projects – No-bake clay? Yes, please!
68. Make Greeting Cards – Make them ahead of time & store them for later.
69. Paint Pet Rocks – Pets you can collect.
70. Make a Bird Feeder – Watch your little visitors as they come to eat.
71. Paper Bag Puppets – No-fuss puppets that you can recycle.
72. Watercolour Painting – A favourite because it's washable.
73. Mason Jar Crafts – Super cute crafts in glass.
74. Aluminium Foil Crafts – From your pantry to the art gallery.
75. Paper Weaving – Build their dexterity with these.
76. Make Wind Chimes – Experiment with sounds & the wind.

Crafts For Kids – Primary +
77. Origami Animals – These are so so cute!
78. God's Eye Wool Weaving – Perfect for Christmas decorations too!
79. DIY Bubble Blower – You know they're going to love this.
80. Decorate Paper Crowns – Because we're all royalty.
81. Paper Snowflakes – Winter has never looked so beautiful.
82. Pom Poms – Raid Nan's wool stash for these.
83. Toy Clothing – No-sew Barbie clothes. Yes please!
84. Rainbow Paper– Nail polish, paper & water… That's it!
85. Infinite Paper Flipper – It's flippin' excellent.
86. Melting Crayon Craft– Turn those crayons into a masterpiece.
87. Clone Trooper Paper Dolls – For all of the little storm troopers out there.
88. Cityscape Sponge Art– Paint a whole city in just a few taps of the sponge.
89. Rainbow Prism – Making rainbows at home with just a few items.
90. Mini Beaded Bookmarks – Perfect for their hand-eye coordination.
91. Single Colour Art – Only one paint colour at home? No problem!
92. Shaving Cream Marbled Paper – Now this is easy!
93. Seashell Crafts – Use those seashells you collected on holidays.
94. Homemade Bookmarks – Encourage their reading with a handmade bookmark.
95. Homemade Wrapping Paper – Wrap your gifts in art.
96. Fabric Pen T-shirts – Get your kids designing their own tees.
97. Spirolaterals Math Art – It's maths, but it looks so good!
98. Scratch Art – Perfect for kids who like some sensory play.
99. Paper Boats – Whose will float the longest?
100. About Me Scrapbook – It's all about them & their memories.
101. Thankful Jar – A reminder of the things they're grateful for.
102. Cardboard Castle – Fit for little kings & queens.
103. Puffy Sidewalk Paint – Get some sun while you make your art.
104. Kids Embroidery – This idea is so cute & super easy!
105. Mosaic Art – This tile art is super eye-catching.
106. Decorate Shoes – For the fashion designers of the world.
107. Knitting for Kids – Heaps of knitting activities for all levels.
108. Make Temporary Tattoos – Temporary tattoos at home? Cool!
109. Superhero Mask Craft – Unleash your inner super hero here.
110. Tooth Fairy Case – Impress your tooth fairy each visit.
111. Jar Lanterns – Lights out! These are gorgeous.
112. Natural Dye Experiment – It's chemistry without chemicals.
113. Learn to Draw – Step by step help drawing all of your favourite things.
114. Draw a Self Portrait – The perfect activity to show them how beautiful they are.
115. Inspirational Quote Poster – Give them the opportunity to say something inspiring.
116. Sharpie Tie Dye – This is so much fun & it's easy.
117. Bottle Rocket – Reach for the stars!
118. Make Friendship Bracelets – Best friends forever.
119. DIY Bath Bombs – They'll bathe for hours in these.
120. Design your own Headbands – Fashion parade anyone?
121. Butcher Paper Body Tracing – Life-size models of themselves. This is fun!
Kids Educational Resources
Don't forget to check out our incredible educational range that will be printed especially for you and delivered straight to your door. We're the one-stop shop for personalised school labels, & waterproof name stickers.